LaserSpeed ES-XL-2LL-R LED Light/Laser Review


by Roy Seifert

Click here to purchase a CD with this and all Kitchen Table Gunsmith Articles.

Disclaimer: This article is for entertainment only and is not to be used in lieu of a qualified gunsmith. Please defer all firearms work to a qualified gunsmith. Any loads mentioned in this article are my loads for my guns and have been carefully worked up using established guidelines and special tools. The author assumes no responsibility or liability for use of these loads, or use or misuse of this article. Please note that I am not a professional gunsmith, just a shooting enthusiast and hobbyist, as well as a tinkerer. This article explains work that I performed to my guns without the assistance of a qualified gunsmith. Some procedures described in this article require special tools and cannot/should not be performed without them.

Warning: Disassembling and tinkering with your firearm may void the warranty. I claim no responsibility for use or misuse of this article. Again, this article is for entertainment purposes only!

Tools and firearms are the trademark/service mark or registered trademark of their respective manufacturers.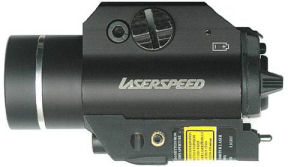 A laser sight attached to a handgun allows you to make accurate shots when it is not possible to use the iron sights. Add a tactical flashlight to the mix and you have a potent combination. In the past most tactical flashlights had long bodies because they were designed to be handheld. If a handgun owner wanted both a tactical flashlight and laser attached, the combination was often bulky and heavy. Activating the light and laser was sometimes impractical because of wires and pressure switches. Flashlights that used traditional incandescent bulbs often could not stand up to recoil.
Accessory manufacturers have gotten smart and are now catering to the shooting public by offering laser/flashlight combinations designed specifically to be mounted on a handgun. Light emitting diode (LED) technology has advanced to the point where tactical flashlights are now using high intensity LED's which last longer and can stand up to recoil. Streamlight® and Surefire® both offer a fairly expensive, weapon-mounted LED flashlight/laser sight combination, although I was able to find them fairly inexpensive on eBay.
I was searching the Internet for a less expensive alternative and stumbled on Ali Express. Ali Express is a wholesale outlet for sellers. Retail shoppers can purchase items individually, or in lots at discounted prices. I found a manufacturer in China that produces almost an exact copy of the American-made unit – at less than half the price with free shipping! The Chinese are well aware of our infatuation with firearms. If a trade embargo wasn't in place the American marketplace would be flooded with Norinco and PolyTech copies. That is something else the Chinese are good at; copying other's designs.
LaserSpeed ES-XL-2LL-R
The LaserSpeed ES-XL-2LL-R is manufactured by the Cixi Yuxing Electric Appliance Co., Ltd. under the name of Erains International LTD. in Liaoning, China. It contains a super bright CREE Q5 LED flashlight that puts out a blinding 200 lumens. On the bottom there is a 5 miliwatt red laser that is adjustable for both windage and elevation. The body is made of all aircraft-grade aluminum; believe it or not the domestic versions are made of nylon or plastic.
It took about 2 weeks for the unit to arrive. The unit came in a foam padded case with a small hex wrench for adjusting windage and elevation of the laser. It also came with a very complete instruction sheet written in "Chinglish", a poor but understandable translation from Chinese to English. The unit did not come with the 2 required CR123 batteries; apparently they are considered hazardous and could not be shipped. A quick visit to the Internet brought me to CR123 Batteries .com where I purchased 4 CR123 batteries. It's always good to have some spares.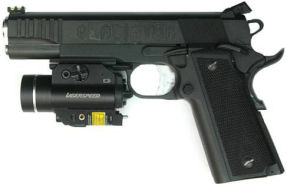 Mounting the Unit
Following the instructions the unit was very easy to mount. It fit on the rail on my wide-body 9MM 1911 perfectly. The activation switch is easily within reach of my trigger finger.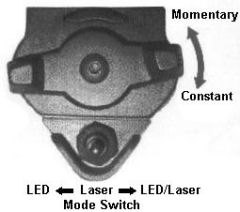 Speaking of switches, the unit has two switches mounted on the rear. A three-position toggle switch on the bottom controls the mode. The left position is LED light only, center position is laser only, and the right position is both LED light and laser. Above the toggle switch is a two position ambidextrous rotary switch. For my right trigger finger, down is constant on and up is momentary. With the toggle switch in the LED only or Laser only position, every second activation of the rotary switch causes the LED or laser to pulse. The pulse mode is not available when both the laser and LED are selected.
Adjusting the Laser
The included hex wrench fit the two adjusting hex screws, one mounted on the left side of the laser for adjusting windage, and one on the bottom of the laser for adjusting elevation. Because the laser is mounted 3.5 inches below the front sight there is going to be some parallax, i.e. the laser will be above the front sight if I am farther away than the adjusted distance, or below the front sight if I'm closer than the adjusted distance. I picked a wall in my house and adjusted the laser to be at the top of the front sight at 30-feet. This will pretty much give me point blank accuracy at any distance in my house.
Overall Impressions
This is a nice compact unit that puts out a blinding 200 lumens of light. It does add some bulk and weight to the pistol, but this helps to control recoil. However, this unit is not nearly as bulky or heavy as the separate light and laser I replaced. This unit got excellent reviews on a number of gun boards. So how long will it last and be able to stand up to use? Unknown at this point. However, it survived one range session where my wife and I put about 100 rounds through the gun. This gun is our home-defense gun which we take to the range about twice a year, so it doesn't really get a lot of use.
My overall rating: ¶¶¶¶¶
For an additional $30 I could have purchased a unit with a green laser model ES-XL-2LL-G. However, green is best for outdoor use and is more expensive; red is best for indoor use which is where I will be primarily using the gun.
Specifications
TECHNICAL DESCRIPTION
Wavelength: 650-660nm
Power Output: 3 W
Laser Type (mw): 5
Battery : Two CR123 Lithium Batteries
Battery Life: 2.5 hours of runtime
Lamp cup radiation angel: 45 degree
LED detailed information
LED model: CREE Q5 LED-003
Power: 3W
Diameter: Ø 8 mm
Length: 85 mm
LED brightness: Up to 200 lumens blinding beam, Bright sidelight
LED radiation angle: 120 degree
Light color: Cold white
Max electric current: 750mA
Working Temperature:-20 ~ +65
Storage Temperature:-40 ~ +85
Light attenuation: Less than 3% after 100k hours
Life time: ≤ 50000 hours
Laser detailed information
Model: LD-650-5X
Diameter: Ø 5.6 mm
Length: 5 mm
Working Temperature:-10 ~ +50
Storage Temperature:-20 ~ +65
Max electric current: 50mA
Life time: ≤ 5000 hours
Working volt: 3V
Weight with Battery : 4.72 oz, 133.8g
Warranty: Extended Warranty
Construction: Aircraft aluminum 7061-T6
Finish: Anodic oxidation/ V' r3 black
Operation: Ambidextrous Momentary/Steady on-off Switch
Rail Mount: Integrated mount